Urban Journal (2007)
Experimental Installation for the Mobile Phone Network

Concept:
Urban Journal is a location sensitive mobile media art piece that facilitates interaction and exchange between people. New media technologies, such as the mobile phone, overlay older forms of communication to constitute a new type of urban space in the form of a social communication matrix. The sending of text messages (SMS) via mobile phones has become a ubiquitous component of such communication practices, enabling every inhabitant with access to a phone to take part in the Urban Journal by recording their daily impressions and forwarding them via their mobile phone.
This phenomena creates a shared cultural platform and through its global media dissemination this leads to the local region entering a global city dialogue.
Technical material used in the production:
Hardware:
1 x Pentium 4 PC 1 GHz Processor
1 x Nokia GSM Card
1 x Mobile Phone SIM Card
1 x Internet access
Software:
.Processing ( http://www.processing.org )
.JDK (Java Development Kit)
.Google Earth
.Google Map API
.Flicker API ( http://flickr.com/services/api )
.iSMS (instant short message service)
More info: http://urbanjournal.free.fr/
Web Archives: http://www.chunchiwang.de/urbanjournal/
Book:
Computer Art Congress CAC.2, Edited by Khaldoun Zreik and Everardo Reyes,March2008
Download Urban Journal.PDF file
Pictures:
http://www.flickr.com/photos/chunchiwang/sets/72157603354366532/show/
*Grand Prize Winners of Interactive Art in 2nd Taipei Digital Art Festival *
*Work in Permanent Collections in Taipei Digital Art Center*
Press : Urban Journal report by Switzerlan SZENE, by Aline Wanner, July 200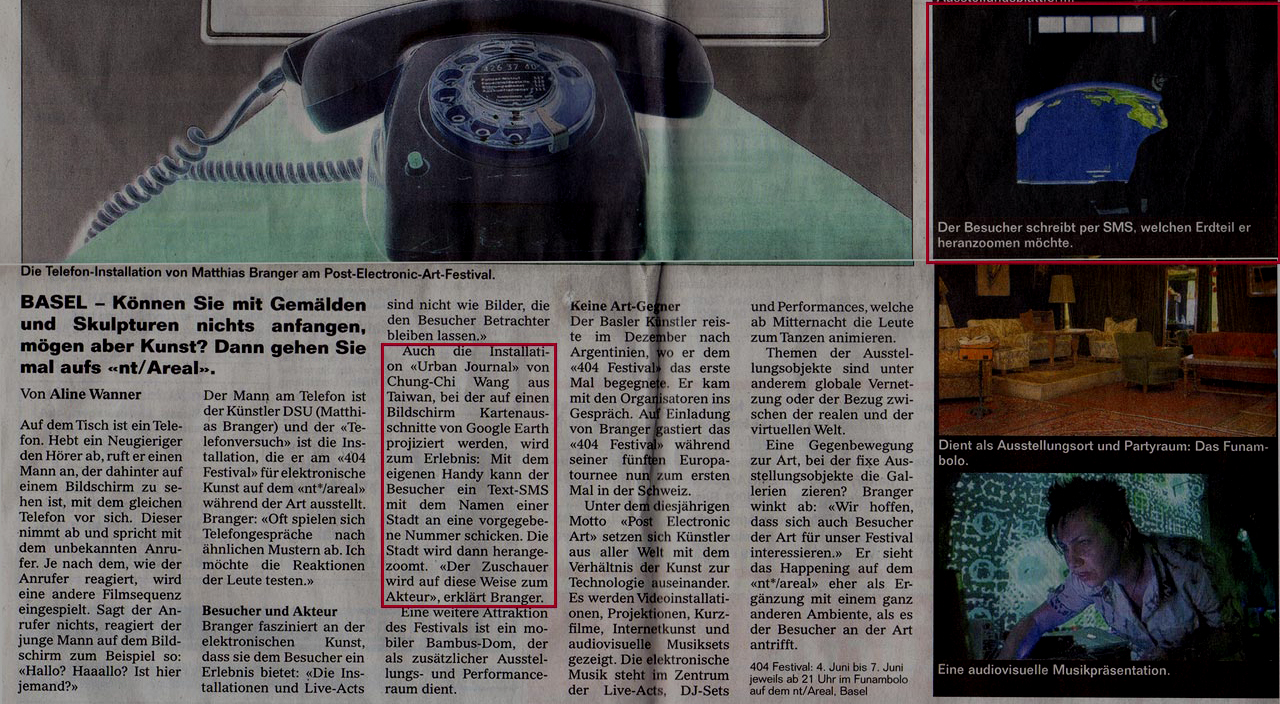 Press: Urban Journal interview by TV Primarka, Slavenia, July 2008